London: Crowds of people descend on Buckingham Palace to pay their respects to Queen Elizabeth II.
Mourners carrying fresh bouquets flocked to the palace gates to drop them off on Sunday – but the scene did not resemble the sea of ​​flowers left behind after Princess Diana's death as they are regularly cleaned.
Palace officials are moving the flower arrangements placed at Buckingham Palace to nearby Green Park, where people are encouraged to leave their respects.
Young families with young children on their shoulders, couples of all ages and young professionals accompanied by cavoodle types on leashes spent their Sundays roaming the crowded paths of St James' Park to pay their respects to the one reigning monarch that most have ever known.
Loading
Mourners came from all over England; they had "grown up with the Queen" and wanted to honor her memory, while others who did not usually identify as Royalists came to witness this historic moment.
Against the backdrop of unusually pleasant weather, an atmosphere of calm reflection and gratitude conjured up the image of England as a place proud of its history and the woman who stoically led the nation for 70 years.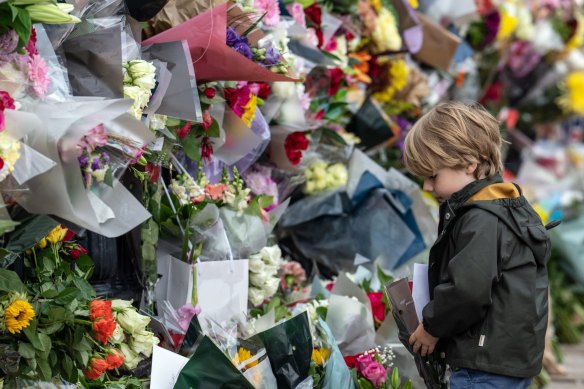 Handwritten cards, candles and bouquets were arranged around the trees and placed in impromptu memorials, along with corgi and Paddington bear references in the form of drawings, stuffed animals and miniature pots of marmalade winking take a look at the queen's sketch with the famous children's character. to mark its platinum jubilee.