What does mean The magic pudding have in common with hackers? A lot, as it turns out. This week the Ballarat Art Gallery opened its new exhibition under the black flagwhich uses art from their existing collection of over 11,000 works to tell the story of piracy in a comprehensive and unexpected new way.
"When you think of pirates, you think of pirates from the 17th and 18th centuries – things like Pirates of the Caribbean. But piracy is still a very contemporary issue," says gallery director Louise Tegart, who curated the exhibition.
The spark for the idea came when Tegart was browsing the gallery's collection of works by Norman and Lionel Lindsay. The brothers – members of the famous Lindsay family which is teeming with artists and writers – grew up in Creswick, not far from Ballarat, and shared an early fascination with pirates – which was reflected in their artistic pursuits. Norman would go on to have a long career as an artist, critic and writer, perhaps best known for writing and illustration The magic puddingwhile Lionel becomes a painter and engraver.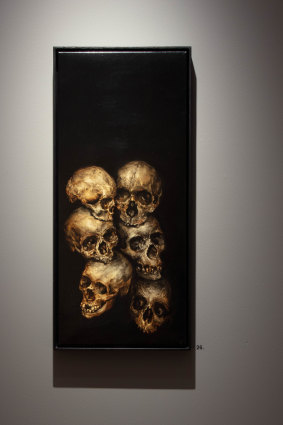 "Norman continued to return to the subject of pirates throughout his career," Tegart explains. His earlier works "were really about pirate romance", but over his lifetime his perspective slowly changed. "Later it became more about morality and violence of men towards each other."
Once Tegart had a theme, the exhibit began to come together, spanning different media and perspectives while challenging assumptions. There are works by contemporary Australian artist Sally Smart which are inspired by her research on female pirates, and there is a ceramic called Pirate Cat which gives a nod to the real cats that lived on pirate ships. , keeping the decks free of rats and thus protecting the food.
Aboriginal artist Tony Albert's work focuses on Captain Cook. "It begs the question of whether Captain Cook should be considered a pirate," Tegart says. Albert collected plates commemorating the 250th anniversary of Cook's voyage and sandblasted the skull and crossbones on top, renaming them commiseration plates. "He's really good at commenting on what Cooke means to a lot of First Nations people – that he's a pirate and a thief."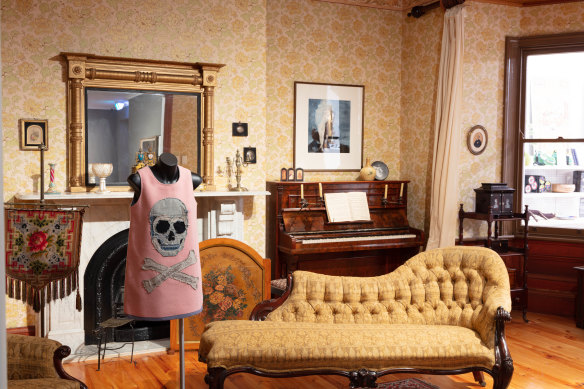 Tegart also mentions a 1984 work by Daylesford artist Maureen Watts, which depicts people fleeing Vietnam by boat. It is a work that highlights the thousands of refugees who have been lost at sea, "either because their ships sank or because they were attacked by pirates".